Stuck at home and can't get out to see us?
Try our Coffee of the month subscription
Or buy your favourite blends from our store.
NEVER RUN OUT OF COFFEE AGAIN.
​
Different single origin coffee beans delivered to your door every month.​
Click here for more information.
​
Drink Coffee. Do Good. Repeat.
black milk coffee subscription
black milk coffee
after dark
Due to the current COVID-19 situation black milk coffee are open once a month for live music, tacos, beer and other assorted drinks. See our facebook page for updates!
coffee of the month
uganda

​
puracepa
about the coffee: light soft apricot and raisin aroma followed by subtle vanilla and clean coconut notes with a lovely quick finish
about the country: It's extremely difficult to track down when coffee was grown in Uganda but it can be assumed when the British formed the protectorate of Uganda in 1824, they were the ones to introduce coffee growing. Uganda's coffee industry was mirrored by the country's political upheavals from the 70's to 90's. During this period, farmers had to deal collapsing coffee prices, drought and various insurgencies. As the countries politics stabilised, so did the coffee industry and in 1991 a government decree allowed the liberalisation of the industry. Today, for every Arabica plant there are 4 Robusta's, Uganda is Africa largest producer of Robusta. The vast majority of Ugandan coffee is grown on smallholder farms; 'shambas' with over 3.5 million Ugandans involved in the coffee industry.
Ever wanted to see coffee being roasted? Come in to black milk coffee roasters on Wednesdays and have a chat, check it out and maybe take home a bag of fresh roasted beans!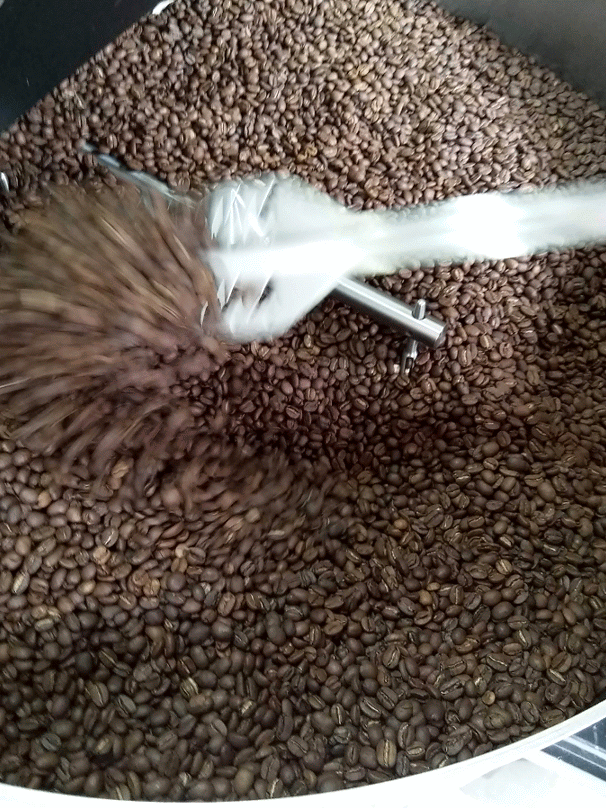 Ever wanted to see coffee being roasted? Come in to black milk coffee roasters and have a chat, check it out and maybe take home a bag of fresh roasted beans!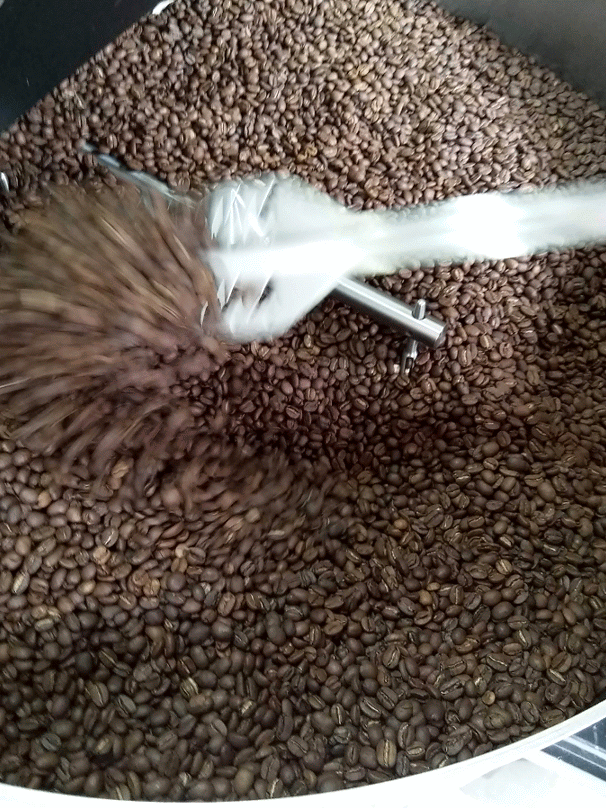 Our house blend. A coffee created for all-day drinkability. Reminds you of a bright, crisp, refreshing day in early spring. Characteristics: sweet crema and bright, smooth body and mouthfeel. Rich finish lingering into a citrus fruit, clean aftertaste. City roasted.
Created to transport your sense to sunrise at the beach overlooking a smooth sea with a light breeze on the water. Characteristics: light, bright toasted hazelnut, malt, cinnamon notes with a subtle spice finish and a clean, brief aftertaste. Perfect lazy day coffee. Medium roasted.
Completely developed to excite the coffee connoisseur in each of us.
Characteristics: voluptuous crema, bitter cocoa notes balanced by roasted nut, deep earth and juicy citrus notes. Velvety mouthfeel and bold finish evolving into a toasted nut/ bitter berry aftertaste.
Full-city roasted.
Profiled to envelop your senses and transport your imagination to a sidewalk cafe in Paris.
Characteristics: intense, fine crema driven by rich bitter cocoa notes, big earthy body and a strong aftertaste. French roasted, this remains our darkest secret blend.
open
weekdays 5am-5pm
weekends 5am-3pm
Established in Oxley 2013 black milk coffee cafe offers casual dining with a solid vibe. Customers are able to eat in or take away a variety of sweet and savoury meals served by our enthusiastic and experienced staff. There is also a kids room and small library out the back for everyone to enjoy!
open
Monday-Friday 7am-12pm
​
This micro-roastery is the newest addition to the black milk coffee family. Roasting every Wednesday, there are a variety of blends and single origin beans waiting for you to taste as well as retail beans for you to take home and enjoy at any time!